How to baby proof cabinets?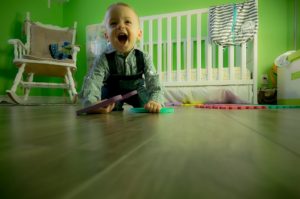 Watching their baby crawl for the very first time is one of the most precious moments in the life of a parent. However, it also makes you anxious for the safety of your baby. The last thing you want is for your baby to come into contact or touch potentially harmful materials or worse to get hurt by sharp edges or get their little fingers jammed in drawers and cabinets. As a parent you will want to protect your baby against any such accidents and one of the best ways of doing this is to baby proof cabinets.
3 Locks to Baby Proof Cabinet

There are a number of baby proofing cabinet locking options in the market. Spend a little time to evaluate the best option for your home. Here are three baby proofing cabinet locks you might want to consider.
Adjustable Strap Safety Locks
Ideal for use on cabinets, windows, drawers, toilets, and even trash cans, the adjustable strap safety lock does not require any drilling since the locking mechanism is adhesive based.
Advantages of Adjustable Strap Safety Locks:
Easy to install; no drilling required.
Comes in a variety of colors to suit most home decors.
The adhesive can be easily taken off without damaging the cabinets.
Magnetic Cabinet Locks
Offering fast and easy installation minus any complicated drilling work, magnetic cabinet locks are again a very safe option for baby proofing cabinets.
Advantages of Magnetic Cabinet Locks;
Strong 3M adhesive makes this locks highly durable.
Easy to install; can be done in minutes.
Can be installed for any cabinet style.
One key works for multiple locks.
Sliding Cabinet Locks
As the name suggests these locks simply slide over cabinet handles. However, these locks are best for cabinets with thin handles and small sized knobs.
Advantages of Sliding Cabinet Locks:
Easy installation; no drilling or adhesive system used in these locks.
Simple sliding system makes them very convenient and easy to handle; just slide them on or off.
They come in three colors so you can pick a shade that best matches your décor.
No damage to the cabinet surface at the time of removal.
Frequently Asked Questions about Baby Proofing Cabinets
What should I look for when selecting baby proof cabinet locks?
There are two main considerations here;
Which locking system is best suited to your home?
How effective is the locking system?
If you live in a rented home, then locks that don't require drilling or those that are not hardware mounted are the best options for you. The effectiveness of the lock is another important consideration; if there are older kids in the house, then you will want a locking system that works for them as well.
When should I install baby proof cabinet locks?
The best time to baby proof your cabinets is before your baby starts crawling. Waiting till after your baby starts crawling can increase the chances of potential accidents.
How many cabinet locks should I install?
Walk around the house and identify storage cabinets and drawers as well as fixtures such as windows, toilets, trash cans or just about any other unit which you feel could harm you baby. If it is dangerous either because of what it holds or because opening and closing it could harm your baby, then it needs to be baby proofed.