How to Secure Your Business Doors?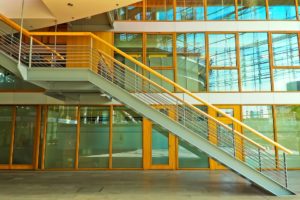 Intruders or burglars do not walk inside your office through open doors. They are experts in picking a lock and can break into your office on a whim; and walk out the door after stealing your money, merchandise, and valuable data, causing considerable loss to your business. However, intruders are less likely to select your business as a target if your entry doors are fully secure. If your entry points are not secure, all of your efforts to protect your assets are useless. Here are some measures you should consider to secure your business doors.
Use Sturdy Doors to Deter Intruders
Don't install entry doors that are intruder-friendly such as hollow-core composite or lightweight doors. Such doors can be easily kicked open. Instead, choose solid core wood or metal reinforced doors. They deter the intruders from the very start. You can make wooden doors more resistant to drilling and sawing by adding a metal lining. Glass doors can be a practical choice for some business, and if you, too, prefer them, go for strong or reinforced glass, for example, laminated glass. And, never forget to pin the exposed hinges; otherwise, they can be easily removed.
Install High-Security Locks to Block Unlawful Entry
Failure to invest in a high-security G1 grade lock such as double cylinder-type, long throw deadbolt can make your business vulnerable to potential threats. When you install high-security locks on business doors, you prevent burglars from making forced entry by hammering, sawing or drilling. These locks can withstand any brutal attack and heavy usage, and burglars also cannot manipulate them and open with duplicate keys.
Protect Your Business with Monitored Security Cameras
Installation of security cameras at your door strengthens your business security. Intruders do not like them, as security cameras can notice even the most determined among them. If they are not deterred and go ahead and commit a crime, you can identify them with the help of camera footage. You can also quickly respond to potential threats because of the alert-notification feature of security cameras.
Install Alarm System for Alert Monitoring
An alarm system detects unauthorized access and automatically alerts a central monitoring system, and someone at the customer services center immediately notifies you and the authorities as well. This enables you to take swift action and stop an attack on your property before it can cause any damage. However, before installing one, you should do some research and choose the right alarm system for your business.
Consult Professional Locksmiths
You can consult an experienced locksmith in Racine about the types of locks and the security systems you should have. You can also seek their help to specify, supply and install security systems. They can also properly install high-security locks, which prevents prying, twisting or cutting. When it is time to repair damaged locks or upgrade your security, give a call to professional locksmith like us.
Protecting your business is a challenging task. However, by securing business door through the measures listed above, you can stop intruders from gaining access to your property.