How to Improve Warehouse Security?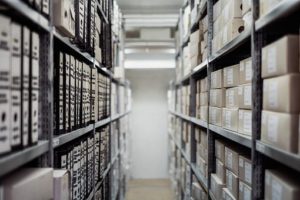 Warehouses are typically loaded with expensive products be it machinery, equipment or clothes Needless to say, these storage houses are a potential and frequent target of robbery. What makes matters difficult is that the culprits can not only be professional thieves, but in-house contractors and employees can also commit the crime. Delivery people, truck drivers and other outside people may feel tempted to run off with the merchandise. What are you doing to maintain or improve your warehouse security?
Handheld Mobile Computers and RFID (radio frequency identification) Readers – Use mobile computers with RFID readers or barcode scanners in a warehouse. This will help you to identify items or products that come into your warehouse. Manually entering information is a time-consuming task. RFID and barcode solutions help in the fast movement of products and help remove errors associated with manual data entry, identification and counting.
Motion Sensors or Detectors – These devices can detect an unauthorized person in your facilities. The detector is activated by the movement of that person. The control panel of your security system then receives the signal from the motion sensor and alerts the central monitoring center.
Access Control Systems – You can control access to your secured areas with the help of highly advanced, sophisticated access control systems. Employees who have permission can gain access to your facilities and at the same time you can also restrict the entry points into your warehouse, using master keys, digital keypads or even biometric locks. You can also integrate access control systems into other security solutions such as CCTV surveillance system for better results. Having a combination of locks and access control systems is a great way of ensuring your warehouse security.
Glass Break Detector – Burglar alarms use this detector to find out if a glass panel is broken. The microphone in a glass break detector monitors the noise of a shattering glass. The detector activates when the sound crosses a particular threshold volume and informs your monitoring company.
Heavy-Duty Locks – Use heavy-duty, commercial grade locks that are made of strong material. Note that the internal mechanism should also be strong so that an intruder cannot employ destructive methods to break apart the locks and gain access. You can get in touch with a professional commercial locksmith in your area to know what kind of warehouse locks would work better for your facility to provide maximum protection against break-ins and thefts.
Emergency Plan – You should create an emergency plan to protect your warehouse as well as your employees. Ask your operations manager to carry out a hazard assessment and find out what personal protective equipment you need for your employees. Train your staff on how to choose and use the personal protective equipment.
Other Things to Consider
Keep in mind to test your warehouse's security system on a regular basis. It is recommended that you should test your alarm system once a week. Give importance to warehouse maintenance procedures in the same way you give importance to other operations. You don't want your warehouse security systems failing just when you need them. So, it is critical to make sure all your standalone and integrated systems are working smoothly at all times.
Racine's Lock & Key is your local commercial locksmith offering all kinds of lock and key services for your commercial requirements. Our technicians will thoroughly understand your security requirements and recommend the best warehouse locks and access control solutions to make sure you are able to run your business smoothly without thinking about security hazards for your facility. Irrespective of the kind of warehouse you own, Locksmith Racine has the right lock solutions for your needs.
Give us a call at (262) 509-0366 to know more about how we can help you with our range of commercial locksmith services – including storage or warehouse lockout, new lock installation, lock replacement, lost keys, broken keys and more. Call us and our friendly representative will be ready to answer all your queries.