How can you stop car theft?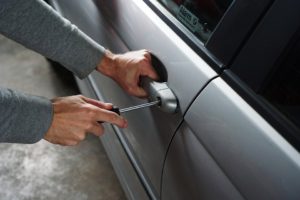 Do you know your car is a hot target for thieves? They can steal it from virtually anywhere, including from your driveway or a parking spot. It will take them a few seconds to disappear with your most valuable possession. And, if you think car thieves are only attracted to luxury cars and will not steal your older and smaller car, you are completely wrong. No car is immune from theft, and wily crooks are devising sophisticated ways to break into your vehicle. So, what can you do to prevent car theft?
You certainly do not want to become the latest victim of car theft. However, most of the time, unknowingly you are giving thieves an opportunity to steal your vehicle. For example, when you stop at a gas station, you usually keep your car running with keys in the ignition. It is an open invitation to criminals, and they do not waste a second to accept it. While you are pumping gas, a professional thief will stealthily open your car door, jump in and drive away. If you want to avoid this kind of harrowing experience, you must take certain precautions and make your car less enticing for thieves.
Why Are Criminals Tempted To Steal Your Car
It is left unattended and running.
Its windows are down or partially cracked, or the car's doors are unlocked.
It is parked in a poorly lit, secluded area.
You have left your keys inside your car, or have hidden spare keys in the car.
You have kept valuable items in the car.
An anti-theft device has not been installed.
How Can You Avoid Being a Victim of Car Theft
Lock Your Car Doors: Even when you are away for just a second, make sure to lock your car's doors. You must also keep them locked when you have parked your car in the driveway or near your house. This is one of the most effective yet overlooked strategies when it comes to taking steps to stop car theft.
Don't Lose Sight of Your Keys: Keys don't belong in the car when you are not driving it. Keep them with you or inside your house when you are not using your car.
Never Hide Spare Keys: Do not pick a place in your car to hide your spare keys, as thieves can scope out your vehicle, find the hidden keys and drive away in a few seconds.
Keep Your Windows Rolled Up: In the summer, do not roll down the windows even if you fear your car will become a mobile toaster oven. Do not leave the windows open even one inch.
Don't start your car long before you drive: When temperatures drop in the winter, you fire up your car's engine to warm it up, long before you start driving. By doing so, you are allowing thieves to steal it easily.
Always Park Safely: Look for a well-lit place to park your car or park in the lots where there are attendants. If you can, keep your car in the garage. Moreover, while parking your car, turn its wheels toward the curb, which will make it difficult for the thief to tow your vehicle.
Don't Leave Valuable Items In Plain Sight: Valuable items such as mobile phones, laptops, costly equipment, wallets are like incentives for thieves. They make them more determined to steal your car.
Install Hard-to-Defeat Anti-Theft Devices: You can deter thieves by installing a kill switch, car alarms, motion sensors, or security cameras. You should install them where they are easily visible.
Call a locksmith
Call a residential locksmith if you find that your car has been stolen and your home keys were in it. They can secure your home against any potential burglary by rekeying or replacing your home locks. You can give us a call at (262) 509-0366 for reliable residential locksmith services in Racine.
Racine's Lock & Key is your local locksmith to take care of all your locksmith needs and provide 24/7 roadside assistance to change locks or offer car key replacement services.