Challenges in Car Key Fobs Replacement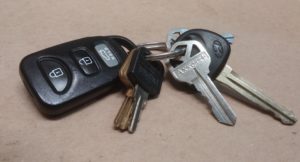 Technology is advancing by leaps and bounds leaving virtually no aspect of our lives untouched. The keyless revolution that is slowly taking over the world is a fine example of this.  Automobile manufacturers are at the forefront of this movement having come up with the keyless start and stop system in their vehicles. This is definitely a fun and handy feature particularly when you have your hands full of grocery bags and simply cannot reach for the key in your pocket or handbag. Yes, we are taking about car key fobs. But about car key fobs replacement wheen it is broken or damaged?
Replacing these car key fobs is not a simple or inexpensive process. It is no longer as easy as calling in a car locksmith. There are various issues that an auto locksmith can come across depending on the make and model of your vehicle. It is a good idea to be aware of all these issues in advance so that you can be prepared to handle them if they arise some day.
Challenges with Car Key Fobs Replacement
At the Mercy of Manufacturers
There are a good number of car models with keys that can be replaced only by the dealership. While some keys that are replaceable may not be able to activate all the settings of your car. In this case, you will have to approach the dealership sooner or later to secure a replacement. An example is a key that will open the doors but not let you start the engine. Also, you will have to show the locksmith proof that you are indeed the owner of the particular vehicle before they can help you with car key fobs replacement.
Smart Transponders
Nearly every ignition key today comes with a transponder chip embedded in it for security purposes. The purpose of these transponders is to enable the key to communicate with the car electronically and prevent vehicle theft. In the event of loss of the key, not only will it have to be replaced, but the car will have to be programmed again for it to recognize this new key. The cost of replacement and programming can turn out to be an expensive proposition.
Getting Past the Security System
It is possible that you have had a security system installed in your car and this can be difficult to bypass without the original key.  Then, the manufacturer of the security system will first have to be contacted. Speaking to them can help your locksmith get an idea of how to bypass the system or gather information about the type of key that can do this.
A Dead Battery
Sometimes, a car key fob may have to be replaced owing to a dead battery. Of course, there are some key fobs that use replaceable batteries and in this case, you may not even require anyone's assistance. You can simply switch the old battery with a new one by following the instructions in the user manual of your vehicle. In other cases, the fob may have to be completely replaced to ensure your car is functioning normally.
While a locksmith can help you to a certain extent, the best recourse is to help yourself. The bottom line here is, don't lose your car keys! And if you do, it is a fact that you must be prepared to shell out a substantial amount of money on getting a replacement at the dealership or on locksmith services, or even both.
Our auto locksmith in Racine is there to help you anytime of the day or night. Yes, we are available 24/7 to help with car keys replacement, car key fobs replacement, making a spare key or repair any issues with car locks and keys. Just give Racine's Lock & Key a call at (262) 509-0366 and you will have access to immediate roadside assistance from our licensed and trained locksmith in Racine.