Choosing Deadbolt Locks for your Home – What You Need to Know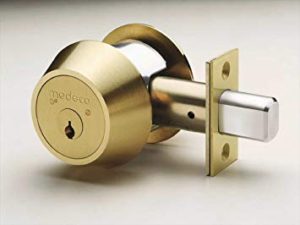 A good door lock set is one of the most crucial aspects of securing your home against intruders and burglars. In addition to strong door locks and an alarm system, installing a deadbolt lock can provide your home with an added layer of protection. One of the reasons why a deadbolt lock is effective to securing your exterior door is because even with the best door lock installed, all it takes to dislodge or even splinter the lock is a well-placed and powerful kick. With a deadbolt lock in place, breaking in through the door will be difficult for even the most experienced burglar.
Is Price Difference Important?
Yes. You can definitely pick up any other lock that costs much cheaper than a branded deadbolt lock. However, if a price difference exists, it does so for good reason. A branded and good quality deadbolt would have undergone stringent quality testing. The lock will be tested on its ability to withstand pressure and any kind abuse. For this reason, most branded and high quality locks are created using components of a certain quality. Something that could well be missing in a more economically priced lock. Do a little research into the kinds of deadbolt locks available in the market. If you are still unsure about which brand to pick for your home, you could always consult with a professional locksmith. Depending on your particular needs and house conditions, a professional locksmith will be able to guide you on which deadbolt lock is more suited to your home.
Single or Double Cylinder – Which is a Better Option?
You can easily find single and double cylinder deadbolt locks in the market. In a single cylinder deadbolt lock, the thumb turn can be used from the inside to either lock or unlock the door. In a double cylinder deadbolt however, a key is required for locking or unlocking the door from both sides. So which of the two is a good option? You will need to consider the following when making your selection.
One of the biggest concerns with using double cylinder deadbolt locks has to do with life safety in an emergency situation. If you house is burning or if there is any other kind of an even which requires an emergency exit, the last thing you want to do is to be looking for the key! The second consideration is if your door has a window. A burglar could easily shatter the glass of the window and operate the thumb turn in a single cylinder lock. So you might be tempted to think that a double cylinder deadbolt lock would be an ideal option especially if the window has a single pane glass. However, most glass windows today are designed to be much stronger and difficult to break. So a single cylinder deadbolt lock can be just as effective.
Fortify the Deadbolt
The strike plate is the metal plate which attaches to the door jamb and accepts the bolt. An effective way of further securing this is by installing it with 3-inch screws. The long screws will help in firmly securing the strike plate to the door frame instead of limiting its attachment to the jamb. An added measure would be to remove the door casing and install a steel strapping. So even the door is kicked, this way the bolt will not simply fly out of the back of the jamb since the steel strapping will provide the necessary resistance.
These are some of the simple things you will have to consider by way of securing your home against any kind of invasion.
You can call professional residential locksmith in Racine at (262) 509-0366 if you are looking to install a deadbolt lock. Our technician can help you choose the right kind of locksmith for your set up. We specialize in installing traditional deadbolt locks, keyless deadbolts, high security locks and all other kinds of locks for your keys.