Improving Security of the Front Door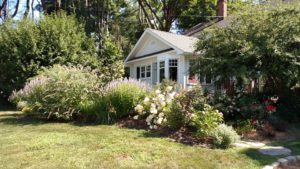 Weak security, especially that of the front door is a huge opportunity for burglars. What can you do about it? You can take many approaches to beef up front door security, but we are going to highlight some of the best and most effective front doors fixes. 
Install high quality front doors
Your main entrance door is your first line of defense against potential break-ins and burglaries. And it goes without saying that a strongly built and properly installed door is possibly one of the best strategies to improve your front door security. Not every door is built same and there is a wide difference between interior and exterior doors. Interior doors usually have hollow cores, and this makes them lighter and fragile, thus more vulnerable to breaking open. A standard front door should utilize a solid wood core or an iron or steel stiffened core.
Upgrade the Locks
The locks used on your front doors are another extremely crucial and fundamental part of your front door security. Improperly installed locks or locks of poor quality and material will compromise the integrity of the home security. Are your locks bump-proof and drill-proof? Is the metal weak enough to be broken with brute force or even drilled into? These are some of the essential questions you should ask yourself whenever you are making a decision to change or upgrade the locks of the front door. We recommend replacing your regular locks with strong deadbolt locks, high security locks or even smart locks. 
Install a digital peephole 
Replacing your standard peephole with a digital version will offer you more benefits than one, when it comes to front door security. You can see who's at the door without having to open the door and a digital peephole makes it easy to identify someone even if there is limited visibility outside. A wide-angle lens also means you have a broader view of the outside. It is a quick and affordable way to beef up your home security.
Other quick tips to improve the security of your home
Install a security camera
Don't ignore windows. Install high quality deadbolts on your windows too
Install a heavy-duty metal strike plate to strengthen the front door lock
For the home entrance and driveway, install a robust lighting system that is equipped with motion detectors
Pay attention to your garage security. It is even more important if your home and garage are attached
In the overall security of the house, the front door security possibly takes the prominence. Weak points on your entrance or security loopholes are cynosure of burglars and they will leap at any easy opportunity they can find to intrude. It is up to you to be proactive and in this technically advanced world there are lot many things you can do to makes sure your house is safe even when you are away on a vacation.
Racine's Lock & Key is your local, licensed locksmith in Racine and surrounding areas. Our trained technicians can help you with locks upgrade, digital peephole installation and with reinforcing the metal strike plates and doorjambs so that it is kicked open by burglars. We are experts in providing consulting services to improve your home security and offering customized solutions that will both fit your budget and security need. Call us at (262) 509-0366 and get your free estimate today.