How Long Does it Take a Locksmith to Unlock a Door?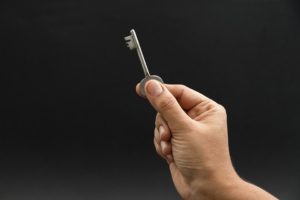 Misplacing your keys or locking yourself out of your home or office are things that can happen to anyone.  Often, these incidents happen at the most inconvenient of moments like when you are about to leave for a crucial meeting or have a flight to catch. When something like this happens, calling in a professional locksmith and getting them to unlock the door is the simplest solution. However, when you are in a hurry to get someplace the first question that is likely to come to mind is, how much time will it take for the locksmith to unlock a door?
Time and Effort Involved
The time and effort as well as the method to unlock a door will depend on the type of lock that is in place.  For instance, a locksmith will need tools such as an electrical pick gun, manual pick tools, and a bump key to open a deadbolt without causing any kind of damage to the lock. When it is a doorknob lock, there are tools required in addition to those used to unlock a deadbolt.  Airbags, bypass doorknob tool, and an under-the-door doorknob tool are some of these.
While the simplest of locks can be unlocked in about seven to ten minutes and complicated ones in around 45 minutes, it is reasonable to keep the average at 30 minutes. This is excluding the time it takes for your locksmith to get to the spot. If your lock is one that can be unlocked only with a spare key, it will take much longer. This is because the locksmith will have to first fabricate a duplicate key depending on the type of lock in place.
Easy or Difficult?
Padlocks, mortise, deadbolts, doorknobs, keyless, jimmy proof deadbolts, cam, lever handle, and euro profile cylinder, are some of the common locks found in homes and other buildings.
Padlocks – These are perhaps the simplest and easiest to handle for a locksmith as they can be easily picked or even broken by force if required without damaging the door in any way.
Doorknob Locks – Commonly found in rental apartments, the locking mechanism in these can be quickly disengaged with the right tools.
Deadbolts – Most deadbolts come with a pin tumbler locking mechanism and require a greater amount of time to unlock. Single cylinder deadbolts are most common in residential homes while double cylinder and lockable thumb turn are the other two varieties.
Lever Handle – Usually seen on the inside doors of commercial buildings, these operate on a lever making them simple to unlock.
Cam Locks – Such locks typically feature pin tumblers or tubular locking mechanisms which are easily handled by a professional locksmith.
Mortise Locks – With these, there are two layers to be unlocked. The first would be a sprung latch that has a lever handle and the second is a deadbolt making it a dual action lock.
Euro Profile Locks – Locks such as these are usually used in sliding doors and could be double or single cylinder or single cylinder with a thumb turn. But they do not require too much time when unlocking without a key.
Jimmy Proof Deadbolts – This type of lock comes with a turnable knob on one side and a single cylinder with a key on the other side. It can prove challenging even for professional locksmiths.
Irrespective of the type of lock you have, it is always a good idea to call in a professional and trustworthy locksmith in Racine to unlock your door. While there is plenty of information available on the different ways in which you can attempt to open a locked door without a key, these can cause damage to your door. Replacing the door or repairing the damage can turn out to be dearer than paying a locksmith!