Professional auto locksmith for car key replacement services in Racine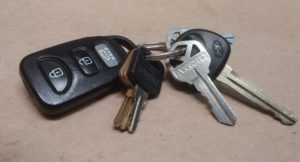 Lost your car keys? Don't have a spare one? It is time to call an expert auto locksmith in Racine to get inside your car and get going. It is important that you call a certified, trained and a professional auto locksmith to avoid getting scammed and to get high quality services.
Trained and certified: Hiring a professional means you are calling a trained technician who can help replace keys of any kind. At Racine's Lock & Key, our skilled car locksmiths have years and years of experience in making new car keys, offering car key replacement services and even repairing broken remote fobs.
On the spot replacement: When you have lost your keys, you don't want to wait for long to get your keys back. All you need is a 24/7 auto locksmith who can immediately come over and give you roadside assistance, wherever you are. Professional locksmiths offer 24/7 round the clock services for your comfort and peace of mind. We offer reliable, mobile locksmith services so that you don't have to spend extra dollars on towing services.
Ready with tools and software: Professional auto locksmiths are always ready to serve you, whether it is the middle of the night or day. Our licensed locksmiths in Racine have all the right and needed tools and software in our mobile vans – allowing us to handle with all types of emergency lockouts or lost keys scenarios.
Safety and reliability: When you are dealing with locks and keys of your property, be it house, office or car, you want to hire a reliable technician who you can trust. Certified and licensed locksmiths undergo comprehensive background check. This means you are in safe hands. In addition, this also means you are hiring a technician with experience and high level of technical expertise.
Excellent customer service: Professional auto locksmiths understand the value of delivering on-the-spot customer service. Whether it is being courteous, answering queries or being patient with understanding your requirements, professionals deliver outstanding experience that go beyond customer's expectations.
Prevent locksmith scams: When you are hiring a professional technician to replace your lost or broken car keys, be assured you are getting duped. Specialized locksmiths like us offer a clear estimate on the basis of your requirement and provide a receipt when we are done. We are always willing to show our license documents, ID proof and other credentials for your peace of mind.
Call (262) 509-0366 and get high quality, reliable care key replacement services in Racine.